There's been plenty of young players that have been hyped as breakout candidates, and one that has been generally overlooked is Joel Farabee.  The former first round pick is getting a big opportunity on Philadelphia this season and he took full advantage of it on Wednesday.  Farabee had a goal and three assists with four shots in the 6-3 win over the Penguins.  It was a bit of everything from Farabee with two assists on the power play, then a goal and an assist at even strength.  Getting to play with Kevin Hayes (1+1, 2 SOG) and Claude Giroux (assist, 3 SOG) will do wonders for the 20 year old, and it's clear that Alain Vigneault trusts him.  I'm not expecting him to light the world on fire, but he's definitely moved into elite streamer status for the time being.  Let's take a look at what else happened on opening night:
Mark Jankowski – Goal and an assist.  Brandon Tanev also had a goal and an assist as the third line did well for Pittsburgh.  However, I don't see either of these guys carrying fantasy value.
Erik Gustafsson – Two assists with a shot.   Both of his assists came on the power play which is great.  I wouldn't be shocked if he moved to PP1 eventually, but for now, I'm considering him a bottom end hold if you need the power play points.
Tristan Jarry – 19 saves on 25 shots.  It was ugly all-around for Pittsburgh, Jarry included.  I'm not panicking, but he does have a very small track record of success so there is some downside here, especially behind that defense.
Jonathan Drouin – Three assists with a shot.  The second line looked excellent as Josh Anderson scored two goals on seven shots while Nick Suzuki had a goal on six shots.  Drouin never lived up to expectations, but he's still only 25 and gets to play with some quality players now, especially Suzuki.  He's right on the fringe.  Suzuki is an auto hold with tremendous upside, while Anderson was a player I marked as high upside before the season.  Anderson looked incredible in 2018-19 but last season was a disaster.  I wouldn't mind grabbing him and seeing what happens since he can bring value in goals, PIMs and shots.
Jeff Petry – Two assists with two shots.  He's a bit boring, but Petry will churn out a solid stat line for all leagues.
Alexander Romanov – Assist with three shots, a hit, and four blocks playing 21:48 in his NHL debut.  I was very impressed with Romanov going against top opposition.  If you're in a deep league with the extra categories, I think he's a solid add.  Welcome to the Razzball database!
John Tavares – Goal and two assists with five shots.  Strong debut from Tavares whose skating still doesn't look great, but it's not going to be a big detriment.  William Nylander scored two goals and added an assist as the second line did some damage.
Andrei Vasilevskiy – 22 saves on 23 shots in the 5-1 win over the Blackhawks.  He was a fluky goal with 3 minutes left from getting a shutout.  He made some big saves but overall, it was easy for the #1 goalie.
Steven Stamkos – Goal and two assists with five shots.  Stamkos looked as good as usual and is poised for a great season.  Just stay healthy!
Victor Hedman – Two assists with three shots.  Hedman was all over the ice dominating against a team that he should.
Alex Killorn – Two assists with three shots.  Both of his points came at even strength, yet Killorn played over six minutes on the power play.  Killorn is a solid streamer who is a decent option if you need hits and PIM with some points.
Anthony Cirelli – Goal and an assist with four shots.  It's only a matter of time until Cirelli's offense blossoms.
Brayden Point – Goal and an assist with four shots.  Point didn't miss a step without Kucherov which is good to see. Don't worry about the low ice time considering the game was in hand by the end of the first period.
Tanner Pearson – Two assists with three shots.  He looked solid on the second line, but Pearson is only a middling streamer without the top PP time because Vancouver really rides the top unit.
Bo Horvat – Goal and an assist with four shots.  Dr. Bo was cutting up the competition right away.  Well, Edmonton decided that they didn't need to cover him, but a goal is a goal!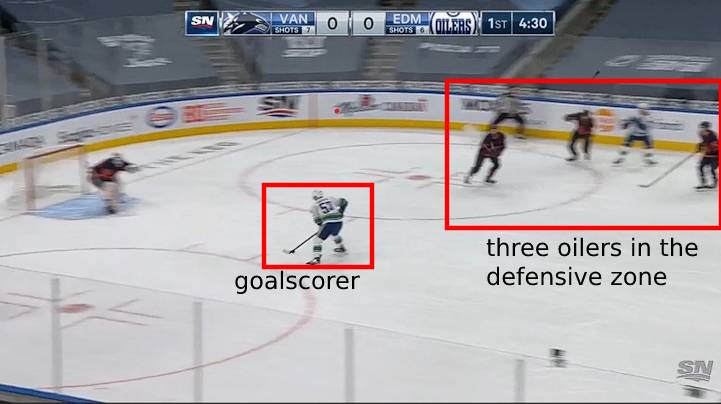 Nils Hoglander – Goal on three shots playing over 16 minutes.  He looked great in his NHL debut.  He's worth streaming in all leagues right now as he's getting time on the first power play with J.T. Miller out for the next two weeks.
Quinn Hughes – Two assists with three shots.  Hughes looked fantastic.  I wish the minutes were a bit higher, but he'll be plenty good regardless.
Brock Boeser – Two goals on four shots.  I'm expecting a big bounce back from Boeser as his shooting percentage last season was too low for a player of his caliber.
Jordan Binnington – 26 saves on 27 shots in the 4-1 win over the Avalanche.  Outstanding performance from the Blues top to bottom.  Nice to see Binnington have a great start against the top team in the league because there are plenty of bad teams on the horizon.
Oskar Sundqvist – Two goals on four shots.  He played on the second line because Mike Hoffman was out with a visa issue.  Hoffman is expected to play on Friday so I'm not planning on using Sundqvist anywhere.
Robert Thomas – Two assists.  My man!  I would have liked to see some shots and more than 12:41 of ice time, but Thomas's pass to set up the second goal was incredible.  Great start for everyone who has Thomas stock
Thursday Streamers:
Hoglander – I'm all for playing him again against the Oilers, especially with Smith expected to be between the pipes.
Tage Thompson – He's going to be on the first line with Eichel and Hall.  I'm a bit worried about Washington overall so I really want to pay attention to this game and see how both teams look right out of the gate.
Jack Studnicka – He's taking Pastrnak's spot on the first line and gets to play the Devils.  How can it get any better than that from a streaming perspective?
Nino Niederreiter – Nino is back on the top line with Aho and Teravainen.  I'm not sure how long it lasts, but getting to play with those guys against Detroit is all that we need.  He's my top streamer of the night.
That's all for now guys.  I'll be back on Friday recapping the action from tonight.  As always, feel free to ask any questions, leave any comments, or give any suggestions below.  Thanks for reading, take care!